Warwickshire homeless to get beds in freezing weather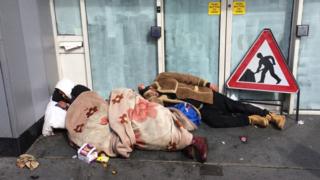 Rough sleepers will be provided with hotel or guest house rooms if temperatures drop below freezing, a council has said.
Warwick District Council will monitor forecasts and spread the word about available rooms through groups that work with homeless people.
It will fund rooms if both homeless shelters in Leamington Spa are closed.
The council previously said temperatures had to drop for three nights before it would provide beds.
Help will now be offered as soon as weather is expected to hit zero or below.
Councillor Peter Phillips, portfolio holder for housing services, said: "It is the first step in a much wider review of homelessness prevention that we have asked officers to carry out over the coming months."
The money will come from the council's general fund and will provide emergency accommodation on nights when two existing shelters in Leamington are closed.
Hotels, guest houses or wherever the council is able to find a room where the proprietor is willing to accept homeless people, will all be considered.
The Radford Road Methodist Church in Leamington runs a night shelter, offering hot drinks, food and somewhere to sleep.
It is open on Wednesday and Sunday nights, while the LWS Night Shelter is open on Friday and Saturdays in the Old Priors Club on Clemens Street.
In its 2016 homelessness review, Warwick District Council said it received 705 applications from people as homeless, an increase of 132% on the number received in 2009/10 . It said applications in the area last year rose at a higher rate than the national average.