Coventry's Electric Railway Museum to close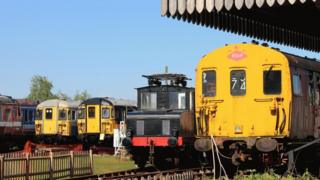 A museum housing a collection of electric trains is closing to the public because developers want the land on which it sits.
The site of the Electric Railway Museum, next to Coventry Airport, is set to become part of a multi-million pound business development.
The city council, which owns the land, has not renewed the museum's lease and its trustees say an alternative location has not been found.
The council said the closure was "sad".
Museum spokesperson Ben Goodwin said the closure was "frustrating". "We're getting thousands of visitors every year and momentum is growing, and then you are dealt this blow," he said.
He said temporary homes had been found for much of the museum's collection, which includes one of the oldest steel-framed carriages to run on the London Tube.
"We are going to move everything off the site over the next few months. We hope we will be given a little bit of leeway, because it's going to cost thousands of pounds to move the locomotives," he said.
"The plan is to see if we can regroup and find a site somewhere else. It would be great if that was in the Midlands but it may have to be outside the region."
The land previously formed part of a large-scale business development plan known as the Coventry Gateway, which was rejected by Communities Secretary Eric Pickles in 2015. An application for a new, smaller scheme is now under way, with the museum's site required for road infrastructure.
The council said: "While it is sad that the museum has to close at this time we understand that they are working hard with the developer, trying to find new homes for the important parts of the collection.
"It's an interesting collection and we are sure there will be interest in safeguarding the exhibits."