Plans for driverless £6m Coventry light railway unveiled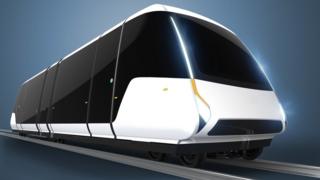 Plans for a driverless £6m light railway project for Coventry have been revealed.
The scheme would use battery-operated vehicles to link locations in and around the city, potentially including the HS2 station in Solihull.
The city's council said the "world-class" railway would be funded by government money, subject to the business case being approved.
The first demonstrator vehicle would be ready for testing by spring 2019.
The plans have been developed by researchers at the Warwick Manufacturing Group (WMG).
They said the aim was to make the vehicles cheaper, quieter and more environmentally friendly than anything currently available.
Dr Nick Mallinson, from WMG, said he hoped the vehicles would be made in the Midlands, to save on the cost of importing them.
"The whole focus is on reducing the cost of the system, so cities the size of Coventry can have their own tram-type transport without facing the costs cities like Birmingham have faced," he said.
The vehicles would operate without a driver which, the university said, would mean more frequent services.
'Unique to Coventry'
The project would, subject to approval, be funded by government money as part of the West Midlands Combined Authority deal.
Jim O'Boyle, cabinet member for regeneration at the city council, said the authority had been working on the project for "quite a while".
He said phase one of the project would probably link from Coventry to the University of Warwick and the Jaguar Land Rover site, while a future phase could link the city to the HS2 line.
"We wanted something world-class and we believe we can come up with something unique to Coventry," he said.
"We have the expertise to build and manufacture it here in this region."