Child rapist of Bishops Itchington jailed for 20 years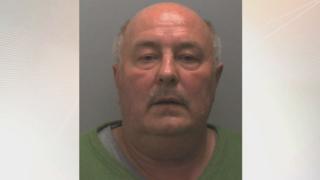 A child rapist who carried out sexual offences over 18 years has been jailed.
David Norman Hazell, 62, was sentenced to a 20-year term, after a trial at Coventry Crown Court.
Hazell was convicted of offences including four counts of rape of a child under 13 and three counts of causing or inciting a child under 13 to engage in sexual activity.
The defendant, of Ladbroke Road, of Bishops Itchington, abused a boy and a girl, between 1994 and 2012.
He was sentenced on Monday after also being convicted of indecent assault and rape.
Det Con Jenny Baker said: "The victims in this case showed huge courage in reporting their ordeal to police meaning that this man is now in prison and unable to cause further harm."
Warwickshire Police said support was available for any victims of abuse who could call police on 101 or 999 in an emergency.