Leamington Spa road shut 'after factory ammonia leak'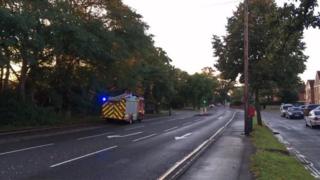 A leak of ammonia from a factory forced the closure of road, police said.
Emergency crews were called in after reports of a strong chemical smell in Tachbrook Road, Leamington Spa, at about 19:00 BST on Saturday.
The incident was not suspicious and no injuries were reported, but the area was "cordoned off as a precaution", Warwickshire Police said.
Tachbrook Road was reopened earlier, when police said fire and rescue crews had safely contained the chemical.
The risk to the public was "very low" and there were not expected to be any ill effects, but "the residual odour of ammonia" could remain for several hours, the force said.