Nuneaton schoolboy who backed out of mass shooting detained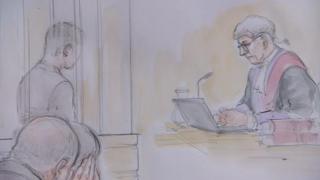 A boy who took a shotgun and 200 rounds of ammunition into school with the intention of harming others has been detained for six years.
The 15-year-old had a change of heart and instead called 999 from Higham Lane School, in Nuneaton, Warwickshire.
Warwick Crown Court heard the boy had been "seconds away" from opening fire.
Judge Andrew Lockhart QC said: "A moment in time separated the pupils and staff of this school from being the subject of a terrible event."
The court heard the teenager, who also took a balaclava into school, had depression, an anxiety disorder and felt a sense of hopelessness at the time of the incident, on 13 June.
He cannot be named because of his age.
A 999 call handler "averted disaster" by questioning the boy about his mental state and instructing him to dis-assemble the double-barrelled gun, and place it outside the room he was in.
The court also heard how a teacher helped calm the situation down until the police arrived.
The shotgun and ammunition - used by the boy and his father for clay pigeon shooting - were legally held and correctly stored, the Crown Prosecution Service said (CPS).
Passing sentence, the judge told the teenager: "In interview, you were frank and told the police that you took the gun to school that day intending to harm people.
"At that time you were in a room, angry to the point of being prepared to use serious and lethal force, armed with a loaded shotgun and 200 cartridges.
"Had you begun to shoot I have no doubt serious injury and death would have resulted and it is impossible for me to predict how many might have been hit."
He added that if the shooting had happened it would have "taken a dreadful place in the history of truly wicked crimes committed in this country".
The teenager pleaded guilty to having the gun with intent to endanger life, as well as possessing 200 rounds of ammunition with intent to endanger life, and possession of a lock-knife.
Supt Martin Samuel, from Warwickshire Police, said: "Our emergency call handlers are all trained to make quick decisions in high pressured situations.
"The call handler in this case immediately understood the severity of the situation and took immediate steps to ensure the safety of everyone concerned. He is a credit to the force."
Head teacher Phil Kelly said on Friday the school had reviewed its safety procedures since the incident.