Nuneaton Town FC banned from land in ground share row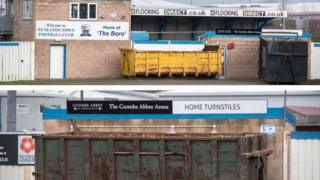 A rugby club is banning a football club from accessing its land as part of an ongoing ground share feud.
Nuneaton Rugby Club sold the ground to Nuneaton Town FC in 2006 on the basis of a ground share, the club said.
But the rugby club said it was not being given a fair share and it was now banning the football club from using its land to access the stadium.
The football club said it would "reconfigure the stadium" to provide access.
It said it planned to install turnstiles in a different location that avoided land owned by the rugby club.
See more stories from across Coventry and Warwickshire here
The rugby club used skips to block turnstiles at the sports ground in Liberty Way last month, after saying it had "no permanent first team pitch from which to promote itself".
It has said it was asserting its land ownership "by refusing unauthorised access" until a ground share agreement was reached.
Now the club has said until the stadium owners "are prepared to enter into" a new ground share agreement, "the rugby club has, reluctantly, decided to enforce its rights over land which was retained (and not transferred to the stadium owners)".
It added: "Pending any agreement, the rugby club is not prepared to allow unauthorised access across the retained land to the stadium."
Nuneaton Town FC said it was "disappointed a satisfactory conclusion could not be reached".
It added it did not accept "points made in relation to the legal position of the rugby club in relation to access over the land to south side of our stadium".
By reconfiguring the stadium, the football club said it would continue to make use of a shared access road, over which it "enjoyed an express right of way", but would no longer require fans to cross land owned by the rugby club.