Jack Williams and Kayleigh Woods murdered Bethany Hill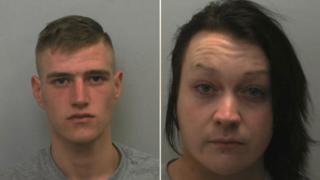 A young woman was "brutally murdered" by her former boyfriend and his girlfriend at a flat they all shared.
Jack Williams and Kayleigh Woods bound Bethany Hill's hands with tape before repeatedly cutting at her neck and eventually severing her jugular vein.
The pair, who tried to pass off the killing in Stratford-upon-Avon last February as suicide, have been convicted of murder.
They have each been jailed for life with minimum terms of 26 years.
Miss Hill, 20, was said to have a "volatile" relationship with Woods, 23, a transgender woman with whom Miss Hill had planned to have a child, Warwick Crown Court heard at the start of their trial.
More updates on this story and others in Coventry and Warwickshire
Prosecutor Stephen Linehan QC said Miss Hill, who was brought up in Bidford-on-Avon, had a brief relationship with 21-year-old Williams when she was a teenager.
She later moved into the flat in Hertford Road, where she used the bedroom while Woods and Williams slept in the sitting room.
But the court was told she was found dead by police on 3 February after Woods, formerly known as Kyle Lockwood, dialled 999 telling the operator: "My best friend is dead in my flat."
'Perverted pleasure'
Ms Hill, who had a history of self-harm, was discovered in a blood-drenched bathroom.
Mr Linehan said the "sadistic" killing may have been carried out for "perverted pleasure".
He said Woods had lied by claiming Ms Hill had killed herself while she was out of the flat.
"All of these things were lies. Bethany Hill had not died as a result of cutting herself - she had been brutally murdered," the court was told.
"She [Woods] lied because she was one of the two people who took part in the killing and the other person was the defendant Jack Williams."
The court also heard from a neighbour who said he heard moaning and what he thought was the sound of a head hitting a wall in the early hours of 3 February.
Miss Hill's family described her as a "fun loving, girly girl" who people naturally warmed to.
"Beth was killed by two people who have shown no remorse or understanding of how their monstrous actions have impacted on our lives and so many other lives," they added.