Skips block turnstiles in Nuneaton sports ground row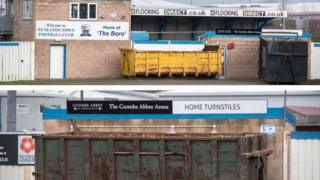 A rugby club has used skips to block turnstiles at a sports ground over a feud with a football club.
Nuneaton Rugby Club said on its website it was "extremely disappointed" but had "been forced to take steps to restrict access".
The moves comes amid a ground share row with Nuneaton Town FC to which, it said, it sold the ground in 2006.
Nuneaton Town said the weekend's football match would still go ahead following a safety review.
'Stand up'
The rugby club complains it has "no permanent first team pitch from which to promote itself".
It said of the skips that while it had done its best to "avoid taking such actions", it faced "a time when you have to stand up for the people you represent and the community at large".
Read more news for Coventry and Warwickshire
It added it had tried to engage with the football club "over a number of years" and was "keen to resolve the situation".
Nuneaton Town, which has an FA Trophy match against Guiseley on Saturday, has been contacted for comment.
A message on its website says that following a meeting over safety, the game - "and any future League games" - will go ahead, with fans advised of any access changes.