Stoneleigh Abbey's £4m homes plan to boost funds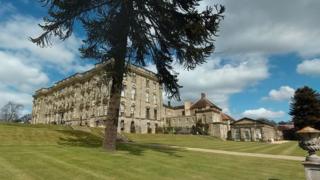 A stately home is trying to raise funds for a new visitor centre by building 12 new homes on its land.
The plans would see a £4m development near Stoneleigh Abbey, Kenilworth.
The home said the houses would be built on the remaining half of the Old Sawmill Field, where 10 homes were created 18 years ago.
Tony Bird, chairman of the trustees, said it was a "massive house and very big estate" and the cash would also fund restoration work.
Mr Bird said: "These old buildings need looking after very carefully and after 18 years it needs a makeover again."
He said funds raised by the previous building plan helped "save the building from ruin" or having to be used for another purpose.
Mr Bird said restoration work was needed on the abbey and its buildings and on walls and fencing around the estate.