Appeal launched to find the Co-op's 'lost sleighs'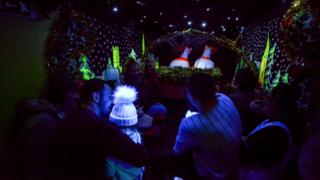 It was once a Christmas institution, transporting families across the country to see Santa in magical rides.
Now an appeal has been launched to find the "lost sleighs" of the Co-op and the company and staff who worked on them.
The Co-op Society created a number of motorised, moving scenery sleigh experiences around the country from the 1950s, to accompany their in-store grottos.
Bosses at Coventry Transport Museum now hope to find out more about the fleet.
See more stories from Coventry and Warwickshire here
The museum houses the 60-year-old Coventry Co-op Sleigh Ride, believed to be the only vintage motorised sleigh ride in the country in working order.
The mechanised sleigh itself is fixed into one place, but the scenery around it and reindeers in front move during the ride, creating the illusion of a moving sleigh ride.
The Coventry ride started running in 1956, with others based in London, York, Belfast, Dalston, Ashton-under-Lyne and Sheffield.
Jo Muskett, director of marketing and communications at Coventry Transport Museum, said: "It was a very popular attraction but over the years they all seemed to have gradually disappeared, with the Coventry sleigh ride seemingly the last one standing."
People have left their memories of the sleigh on the BBC Coventry and Warwickshire Facebook page.
Lisa Jane Ward said: "This ride brings back so many happy memories as a child. I remember it feeling so real on board the sleigh, nothing like it then or now."
Archie Hughes said it was "Great to see this running again".
The museum wants to find out what happened to the other sleigh rides and is also after photographs, film footage, memories and anecdotes to display with the Coventry sleigh.
People can e-mail ashleigh.moore@culturecoventry.com with information.