Mum and daughter graduate from same university with same degrees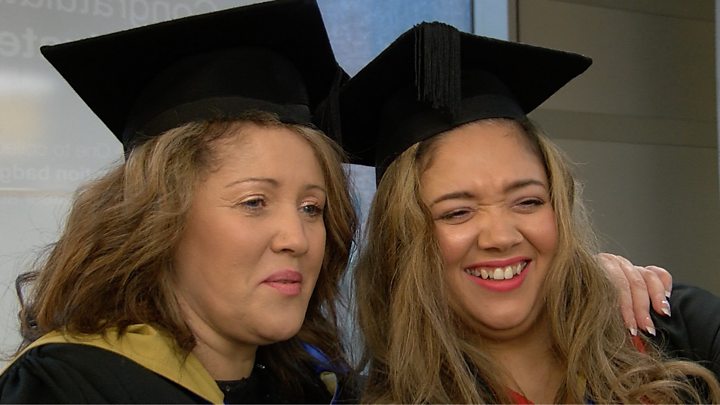 A mother and daughter have graduated together from the same university after studying the same degree.
The self-proclaimed "best friends" who live, study and work together have achieved degrees in psychology and criminology from Coventry University.
Diane Queen, 49, and daughter Azara, 26, who both have dyslexia, said they helped and motivated each other.
The pair, who have also started a life-coaching business together, said they both now plan to get a master's degree.
"We have always been close, we have always had the same jobs, we have always borrowed each other's clothes.. and we go out clubbing," Azara said.
More updates on this story and others in Coventry and Warwickshire
"We both wanted to go to university. I was interested in the psychology area and my mum was interested in the criminology side. She is my best friend, I love being around my mum - she can't get rid of me."
The mother and daughter, who live in Coventry and both worked in mental health care while studying, graduated with matching second-class BSc degrees on Monday.
Azara said she felt overwhelmed by the studying at times but her mother was able to support her.
"If my mum hadn't been there I would have dropped out. She was really, really supportive.
"I was at home, crying, and my mum said 'why are you crying?' It was just one assignment...but I just couldn't do it.
"Mum had her hard bit in the third year - the dissertation. It was the last part, the methodology bit. That's when I had to support her."
Diane added: "I don't think it is strange at all. We've both managed to get so much out of it and it gave me the confidence to do something I might not otherwise have done."
She said the course was a challenge but "really worth it".