Fire engine bridge ban at Marston Jabbett 'risks lives'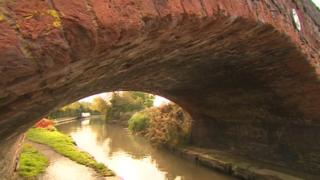 Lives are being put at risk after fire engines were banned from using a bridge into a village, residents say.
The 200-year-old bridge at Marston Jabbett has had its limit reduced from 10 tonnes to three tonnes, Warwickshire County Council said.
Farmers are also angry as the ban on heavy vehicles makes it harder for them to transport livestock and produce.
The council said it was prepared to work with the bridge's owners, Canal & River Trust, to do strengthening work.
Read more news for Coventry and Warwickshire
An average fire engine weighs about 12 or 13 tonnes and Warwickshire fire service has objected to the new weight limit.
Residents say fire engines face a four-and-a-half mile round trip in an emergency and that could put lives at risk.
Farmer Nigel Friswell, whose land is between the bridge and a railway bridge with a 12ft (3.65m) height restriction, said: "It's having a huge impact on the running of the farm business at the moment.
"We've harvested all this year's crops. They're all in store on the farm.
"But at the moment they are stuck there because we can't get any HGV lorries to the farm to remove the produce."
The fire service said the weight limit would have an "adverse effect on public safety" and put people at greater risk due to the "detrimental effect on attendance times".