Why is Coventry in the West Midlands not Warwickshire?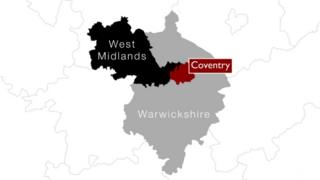 Coventry has operated independently since the Middle Ages but 40 years ago it became part of the West Midlands. Why did the city join the region to its West when it shares all its other borders with Warwickshire?
Andrew Webb and Don Murphy used Your Questions to ask us to investigate.
Mr Webb said: "Why hasn't Coventry been put back into Warwickshire? It feels weird that Coventry shares a lot with Warwickshire but not part of it?"
Mr Murphy asked: "Why is Coventry part of West Midlands and not part of Warwickshire? The map looks weird."
Coventry's existence was recorded as early as the 12th Century with its independent political status granted in 1345. This allowed citizens to elect their own mayor and council.
They also elected their own borough MPs, which were distinct from Warwickshire county MPs.
It was from this point onwards that Coventry's own distinct identity was formed, said Beat Kümin, a professor in history at the University of Warwick.
"It became a major trading and transport hub in the following centuries, with plenty of religious and cultural institutions like churches and abbeys."
Prof Kümin said Coventry was actually one of England's 'foremost cities' and this continued throughout the 15th Century.
Coventry's position as part of Warwickshire changed in 1972 with the Local Government Act, which integrated Coventry into the West Midlands.
Prof Kümin said the reason behind this was due to similarities in big cities like Birmingham and Coventry, which had large and densely populated areas and big manufacturing industries.
"There was a need to provide infrastructure, from higher education to leisure and transport facilities along with solving social challenges like housing and poverty" he said.
The integration was controversial at the time, as many people thought Coventry was closer to Warwickshire than the area that formed the West Midlands.
There were concerns that Coventry would be given an artificial identity by removing it from its immediate surroundings and also changing its local government set-up.
This year, Coventry City Council has cemented its place in the region by joining the West Midlands Combined Authority (WMCA).
The city will benefit from a share of a devolution deal worth £40m a year for the next 30 years which involves sharing services like health, housing and planning.
Even though Coventry is a part of the West Midlands, it still shares some services with its former county - two NHS Trusts, a chamber of commerce and even a tourism board.
Coventry Council's destination and tourism team's website is actually called 'Visit Coventry and Warwickshire'.
The team's destination manager, Deirdre Fitzhugh, said including the two together is purely for marketing reasons.
She said both Coventry and Warwickshire are historical visiting places, so it makes sense to put them together.
However, "Coventry always comes first" when advertising to leisure and business tourists.
The area is "steeped in history and culture" and "has it's own identity" she added.
As to the question of whether Coventry's location in the West Midlands matters to its identity, Lord Mayor Councillor Lindsley Harvard said: "Coventry has a long and proud history of working with our partners in Warwickshire and the West Midlands.
"But, we are first and foremost Coventry and have our own history and identity which I, and local people, are quite rightly proud of."