Sports Minister considers mediator for Coventry City row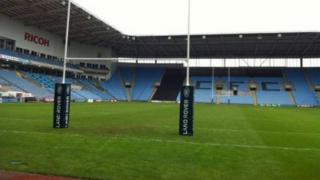 A mediator could be brought in to try and secure the future of crisis-hit League One Coventry City Football Club, the sports minister has told MPs.
Tracey Crouch said football authorities needed "to come together to try and sort this out".
MP Jim Cunningham called for an "eminent figure" to be brought in to resolve disputes around the side.
A deal allowing the club to play at the Ricoh Arena expires at the end of next season.
Talks to reach an agreement have broken down, the team is currently bottom of its league and fans have called on owners Sisu to sell it.
More on this and other stories from Coventry and Warwickshire
Concerns have also been raised over where the team will play home matches for the 2018/19 season after landlords Wasps, who also play at the Ricoh Arena, pulled out of talks about extending their lease amid a threat of legal action from Sisu.
The club was forced to play home matches at Northampton in 2013 after a rent dispute, but returned to the Ricoh Arena the following year.
The club's training ground has also been earmarked for new housing by the council.
Mr Cunningham, MP for Coventry South, who called for Tuesday's parliamentary debate where he made the call for a mediator, said Coventry City fans had been "very constructive" and would welcome the appointment.
"This has been going on for five or six years and something has got to be done about it," he said.
Ms Crouch said ultimately it was not a matter for the government to intervene on.
However, she said she would consider appointing a mediator.