Rugby school brings beach to land-locked pupils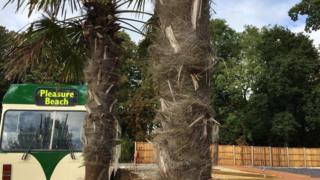 A school has brought the beach to its pupils in land-locked Warwickshire.
Brooke School in Rugby, which teaches pupils with special needs, said the area would bring enjoyment, adventure and help with physical development.
The £30,000 man-made beach, funded by charity donations, includes a Blackpool tram donated to the school.
Head teacher Chris Pollitt said the beach, which will be unveiled to children on Saturday, "had been kept secret behind a fence".
"A lot of our children have complex special needs and travelling two hours to the beach at Weston [super-Mare] can be a difficult experience," he said.
The tram, donated by Colas Rail, will also be used as an additional classroom.
For more on this and other Coventry and Warwickshire news
Teachers hope to use the beach to teach science, outdoor art and possibly outdoor cooking skills to the 160 pupils.
The school at Overslade Lane already has a bush craft area and farm as part of its focus on outdoor learning and activity.