Villagers raise 'half of funds' to buy New Inn at Norton Lindsey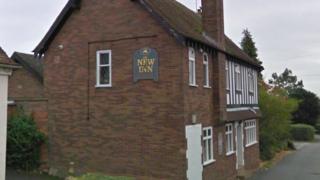 Villagers trying to save their local pub say they have raised half the money needed.
The New Inn at Norton Lindsey, Warwickshire, closed in July and has been put up for sale.
Lucy Boyes, one of the fundraisers, said there had been an "overwhelming response" from villagers who had pledged half of the £350,000 needed.
Campaigners are hoping to create a "community pub" which may also offer facilities such as a cafe and shop.
'Asset of Community Value'
Ms Boyes said: "We feel very strongly that it needs to be retained as a community hub for the local residents."
The campaigners, called the New Inn Salvation Squad, will be launching a share offer at the end of October and hope people from further afield will get involved.
They surveyed villagers to ask for investment and for feedback on what facilities the building should offer.
Camra, which has backed the campaign, said the 266-year-old pub was a "historic landmark".
Camra said the parish council had registered the pub as an Asset of Community Value and the villagers had until early December to submit their bid to buy the premises.