Coventry Kasbah nightclub freshers' week condoms 'unsafe'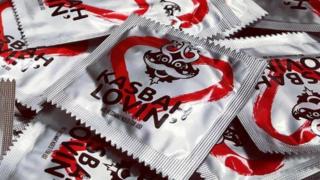 An "irresponsible" nightclub handed out thousands of potentially unsafe condoms to students during freshers' week.
The Kasbah, in Coventry, urged first years to pick up one of its promotional gift packs and "get some lovin'".
But city health bosses said the contraceptives did not feature safety markings and could fail if used.
The club said the condoms - which had "not recommended for use" printed on the wrapper - were safe and sourced from a reputable manufacturer.
'Massive fail'
A number of people criticised the nightclub for putting students at risk, while others warned them not to use the condoms.
Posting on Twitter, Coventry City councillor Damian Gannon said: "This is incredibly irresponsible, how on earth does this promote licensing objectives?" while Robin Eveleigh tweeted: "Giving out condoms labelled 'not for use' is a massive fail."
In response, the club said the condoms had been tested and were harmless.
"They are a novelty item given out for promotional purposes and clearly state 'not recommended for use' most uni students can read."
The NHS-run Coventry Integrated Sexual Health Service said all contraception should feature an expiry date and batch number, plus a British Standards kite mark and CE European Standards mark.
A further statement from the club said it hoped students would keep the condom as a memento of their student days and the great night they had at the Kasbah.
It said: "The Kasbah is very conscious of the important role we play in maintaining the safety of young people visiting our venue and would never do anything to put this at risk."