Houses earmarked for Coventry Football Club training ground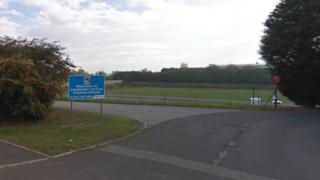 Dozens of homes could be built on Coventry City football club's training ground in Rugby.
The site at Ryton-on-Dunsmore is suitable for up to 75 properties, according to the borough council's draft local plan.
The document sets out out potential development opportunities for the next 15 years.
A club statement said the six-acre site would not be built on until a replacement training site was found.
"The objective is to relocate to a new modern site, which will act as an inspirational environment and will better serve the needs of the football club as a whole," it said.
"The club would like to reiterate that the current site cannot be developed until it has demonstrated to Rugby Council and Sport England that an adequate replacement has been provided for."
Coventry started using the Ryton training ground, off Leamington Road in the early 1960s.
The local plan is currently out for consultation.
Last month plans by Wasps rugby club to build a training centre on the site of Coventry City FC's youth academy at the Alan Higgs Centre were approved.