Coventry council deputy leader Abdul Khan rebuked by regulator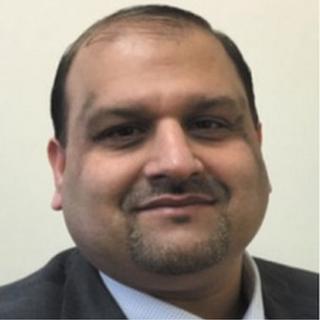 A solicitor and deputy council leader has been rebuked by a legal regulator for "not protecting clients' money".
Coventry City Council's Abdul Salam Khan said "no dishonesty" was involved after the Solicitors Regulation Authority found a shortage of £39,441.53 from a clients' account.
The ruling relates to Mr Khan's time at The Law Partnership Solicitors LLP in Coventry, which was wound up in May.
The SRA said he was given a written rebuke and had "remedied" all breaches.
The regulator investigated after Mr Khan's council predecessor and partner in the law firm, Philip Townshend - who has since died - was accused of fraud.
'Nobody lost out'
While Mr Khan was a member of the company, based in Foleshill Road, he breached the principle to "protect client money and assets", the SRA said.
Mr Khan told the BBC the shortage in the client account occurred because Mr Townshend, the firm's compliance officer, did not notice "ledgers were not written up".
He said: "Dishonesty is incompatible with a role in public life. Nobody lost out."
The regulator said Mr Khan also failed to alert the SRA to the firm's financial difficulty, adding that between May 2012 and August 2015 cheques were written from the office account which would have bounced if they had been presented for payment at the time they were written.
In addition to the rebuke, Mr Khan was directed to pay £600 costs.