Coventry United to share Butts Park Arena with Coventry Rugby Club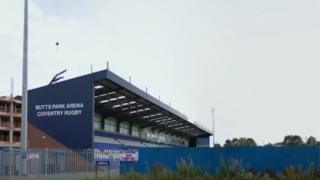 Coventry United is to share the Butts Park Arena with Coventry Rugby Club after both sides agreed a deal.
The football club's men's and the women's sides will play home matches at the ground from the 2017/18 season.
The rugby club had been in talks with Coventry City about a similar ground-sharing plan.
The Coventry Bears rugby league side will continue to use the stadium, meaning three teams will be playing home matches at the ground.
Jon Sharp, chairman of the rugby club, said the deal with was "a good thing for the city and all the clubs concerned".
"Frankly the stadium is under-utilised. We have 15 [home] league matches a year, and that's a pretty sad use of such a marvellous facility," he said.
Mr Sharp said the club would look to find grants to improve the pitch and build women's changing rooms.
The non-league football team have played their home games at the Alan Higgs Centre since they were founded in 2013.
Chairman Jason Kay said the club was "absolutely delighted" with the move.