Morgan Hehir murder: MPs' help sought in Apple laptop fight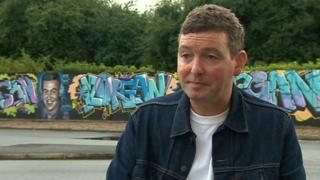 A father has called on MPs to help force computer giant Apple to unlock his murdered son's laptop.
Morgan Hehir, 20, from Nuneaton, Warwickshire, was stabbed with a steak knife in the street on 31 October last year. Three men were jailed in June.
His father Colin said last month that Apple told him he must obtain a court order to access his son's artwork.
He said he wants Parliament to discuss Apple's terms and conditions.
"I do want to push this to Parliament because I believe the terms and conditions are unfair," he said.
Mr Hehir said he had been contacted by other bereaved families who have encountered the same problem, not just with Apple.
"If we have probate, you should be allowed access. Simple as that."
He said his son was a painter and a musician, who stored his work on the laptop, which he wanted to see.
He described his son as a "contributor to the community" and said he and the family would not have been able to cope following the killing had it not been for the help of friends within that community.
A music and arts festival, organised by friends and family, was held in Nuneaton on Saturday in Morgan's memory.
Apple has said that due to the absence of permission for third party access to the account, "it is impossible to be certain what access the user would have wanted and we do not consider it is appropriate that Apple make the decision".
It advised the family to obtain a court order, adding that the company recognised the "extremely difficult" situation.