Coventry race row councillor Glenn Williams apologises for offence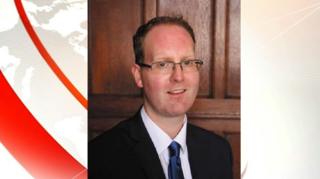 A councillor who said non-English speakers were "taking over" the country and should "go home" has apologised for causing offence.
Coventry City Council members backed a motion calling on Glenn Williams to resign at an extraordinary meeting.
He was voted off the planning committee but has refused to leave his position as a councillor for Bablake.
Despite fellow councillors voting for their colleague to resign, the motion was legally non-binding.
Mr Williams - now an independent after resigning from the Conservatives - will next face an election in 2020.
"All of us are sent here by the ballot box, and only the residents can take us away," he said.
"I hope to be able to work constructively with colleagues for the benefit of all residents."
More on this and other stories from Coventry and Warwickshire
Mr Williams told the meeting he was "probably guilty" of speaking "from ignorance" in the chat with a former Conservative colleague on WhatsApp.
He said he held a "really positive" meeting with the leader of the Coventry Refugee and Migrant Centre, and would visit a local mosque to "educate" himself about Islamic culture.
However, George Duggins, leader of the council, said Mr Williams was "almost certainly" going to face an ethics committee meeting, and called for him to "reflect very carefully" and stand down.
"Had the views that he clearly held been known to the constituents of Bablake in May there is little doubt he would not have won," he said.
"Legally he doesn't have to, [but] legitimately and morally it's my view that he should stand down."