Tractor parade in Coventry marks 70th anniversary of Massey Ferguson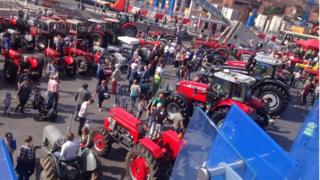 A procession of tractors has made its way through Coventry as enthusiasts marked the 70th anniversary of an iconic manufacturer.
Massey Ferguson first began producing its 'Little Grey Fergie' vehicles in the city in 1946.
Seventy of the firm's tractors took part in a 'honk and hoot' at Millennium Place, outside the Coventry Transport Museum, on Saturday to mark the event.
Lindsley Harvard, Lord Mayor of Coventry, led the parade.
Officials hope the role of Massey Ferguson will help add traction to the city's bid for the 2021 UK City of Culture title.
David Walker, a former employee who has written a book on Massey Ferguson, said the tractors' engineering qualities and adaptability had helped it become an agricultural icon.
"The Grey Fergie was simple, it could be handled by nearly anyone, it was easy to work on, and it went worldwide," he said.
Les Arnold, whose own Massey Ferguson is 60 years old, said the vehicles were "synonymous" with Coventry across the world.
He said: "This is more than a tractor: it represents a piece of agricultural history that is famous the world over and as reliable and relevant as it was 70 years ago."