Warwick Castle welcomes first baby peacocks in four years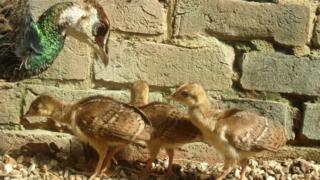 Baby peacocks are born in the grounds of Warwick Castle for the first time in four years.
The peachicks, believed to be just over a week old, were found nesting on the roof of an outbuilding with their mother.
The family has been brought into a garden shed, where castle staff are caring for them and providing them with daily dishes of mealworms and greens.
Now, the castle is asking for the public to help name the new arrivals.
Nick Blofeld, Warwick Castle's divisional director, said staff are having to wait before they can tell if the chicks are male or female.
"The cuteness factor of our peachicks is off the scale already," he said.
The castle has a flock of 40 adult peacocks that roam around its grounds.