Cubbington falconer 'uprooted' by HS2 wins compensation battle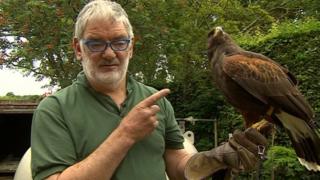 A falconer who will be forced to move when the HS2 rail route runs through his land has won a battle for compensation.
HS2 had agreed to buy Robert Edwards' house in Warwickshire, but the House of Lords select committee has ruled it must now also pay moving costs as he runs a business from his home.
Mr Edwards said he would have to "uproot all of his life".
HS2 said it respected the decision of the select committee.
The first phase of the £56bn rail route will run from London to Birmingham and could be completed in 10 years.
More updates on this and other in Coventry and Warwickshire
Mr Edwards, who lives in Cubbington and trains people to fly birds of prey at his home, petitioned the House of Lords HS2 select committee after the group refused to pay his moving costs.
"The problem for us is that we've got the HS2 high speed train virtually running right the way through our property," he said.
He said the sale of his house meant he would have to set up his business elsewhere which would be "an absolute nightmare."
He also claimed spores released from digging up soil for the route could lead to his birds contracting a potentially fatal virus called aspergillosis.
He added: "I've now got to uproot the whole of my life and go and find some suitable land to fly my falcons."
An HS2 spokesman said: "The select committee determined how the compensation code should be applied to Mr Edwards' circumstances, recognising that part of his land interests are being acquired and the unique situation in which he finds himself.
"We respect the committee's decision."