First swim in sea stretch off Ireland's north coast since 1929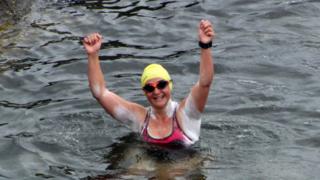 A woman has become the first swimmer in nearly 90 years to cross a 13-mile stretch of sea between two coastal beauty spots off Ireland's north coast.
Heather Clatworthy, 34, became only the second person to go between Stroove beach on County Donegal's Inishowen peninsula and Portstewart in County Londonderry, Northern Ireland.
The charity worker, from Warwickshire, finished in four hours 15 minutes.
She had predicted it would take between eight and 10 hours.
Read more news for Coventry and Warwickshire
The mother of two, whose childhood home was Portstewart and who now lives in Leamington Spa, said she was "just so pleased" to do the challenge.
She said: "Two hours in I just didn't think I was going to do it.
"I just felt so ill, I was getting really beaten by the waves. They weren't that big but it was very choppy."
The swim was first completed in 1929 by English channel swimmer Mercedes Gleitze, who was asked to take on the challenge to help promote tourism on the coastline.
For the latest swim, the charity worker had been training and planning for 18 months, during which time she made contact and befriended Mercedes Gleitze's 81-year-old daughter.
At the end of the challenge, she was cheered by well-wishers and hugged by her husband, Ian.
An official from the Irish Long Distance Swimming Association monitored the attempt while volunteer sea kayakers and a support board accompanied her for every stroke.
She said: "I just want to thank everybody for the support because I couldn't have done it without everybody here and all the guys on the boat and kayaks."
She was raising money for Portrush RNLI and a fund she had established to promote outdoor recreation in Portstewart.