Coventry Cathedral to use £870k to reface chapel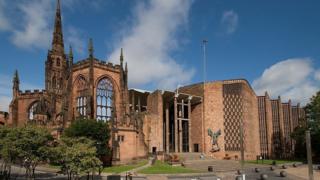 A cathedral receiving £870,000, the largest grant for repairs to mark the centenary of World War One, will use the money to reface a chapel.
Slates will be remounted at a Coventry Cathedral Chapel of Unity.
Overall, cathedrals in the UK will receive £14.5m to repair these "powerful symbols" of British history, the government has said.
Dean of Coventry the Very Reverend John Witcombe said he thought work would take a couple of years.
He said he was "absolutely thrilled" with the grant from the First World War Centenary Cathedral Repairs Fund, after receiving money in 2014 to finish off restoration work on the ruins and to work on the old crypts.
"We've got some waterproofing done in the crypts which will take a couple of years to dry out and the larger of those crypts was designated in 1946 as [a]... Chapel of Unity.
"Then when the new cathedral was built, a new Chapel of Unity was part of that structure.
"It was built in 1962, they were trying out new building methods and some of those worked and some of them worked a little bit less well.
"So there's a huge piece of work to refit all the slates around that old Chapel of Unity."
He added there was "really quite a lot that needs to be done around the cathedral 50 years into its life".