Shakespeare's will home in Stratford after 400 years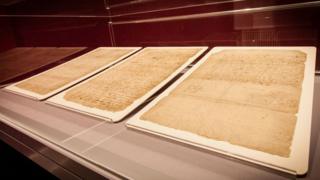 William Shakespeare's will is going on display in Stratford-upon-Avon for the first time since he wrote it 400 years ago.
The playwright's will, which is usually protected in storage by the National Archives, will be on show at the Shakespeare Birthplace Trust.
He wrote it in March 1616, a month before his death on 23 April.
It was taken to London by his son-in-law in June 1616 to get a grant of probate and has been there ever since.
The will, which is signed in three places by Shakespeare, will be on display from 16 July to 4 August as part of the commemorations of the 400th anniversary of his death.
Due to its delicate nature, it has been placed in room with controlled conditions to ensure it is not exposed to too much light.
Shakespeare left the bulk of his estate to his elder daughter, Susannah Hall, and £300 to his other daughter Judith.
The most famous detail of the will, is the bequest of his "second best bed" to wife Anne Hathaway.
Paul Taylor of the Shakespeare Birthplace Trust said having the original will on display was a "very special thing".