Company criticises Coventry City Council as judge rejects costs order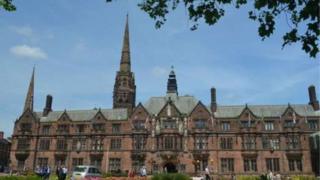 A charity director has accused a council of conducting a "protracted witch-hunt" against his company.
Housing provider Open Doors lodged a case for compensation against Coventry City Council after the Local Government Ombudsman ruled the council had abused its powers against the company.
The council requested £75,000 be paid as security so court costs could be met if it won. The High Court rejected it.
The council declined to comment due to it being "an ongoing case".
More on this and other stories from Coventry and Warwickshire
Last year the council was forced to apologise after a report found it conducted an "unreasonable campaign" against a company and its director.
'Distress our organisation'
Delivering a rare finding of "maladministration with injustice", the ombudsman found the council had abused its safeguarding procedures in its dealings with the company, which provides housing support for disabled people.
Open Doors' barrister called the failed costs order - which would have required the company to pay in advance to prove it could afford the council's costs - a "veiled attempt" to "oppressively stifle a genuine claim" for damages.
John Kavanagh, director at Open Doors, said the company had shown "quite clear" accounts that it could pay the council's costs if they lost their claim.
"It was just a further attempt to distress our organisation," he said.
"This is from an authority that should be working with us to help some of the most vulnerable people in the community."
The civil claim by Open Doors for compensation against the council is now expected to be heard in full at the High Court next year, Mr Kavanagh said.