Fraud-accused Philip Townshend 'had victim sign blank cheques'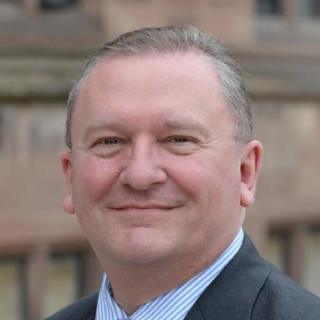 A deputy council leader accused of mortgage fraud got his elderly victim to sign blank cheques and papers, documents have revealed.
Philip Townshend, a Coventry city councillor who died last year, took out a mortgage on the woman's house without her knowledge, a source claimed.
More details about the alleged fraud are revealed in Land Registry papers.
His successor, a lawyer whose company acted for Mr Townshend in the matter, was interviewed but not arrested.
Latest reaction, plus more Coventry stories
Abdul Salam Khan, director and company secretary at The Law Partnership Solicitors, has not commented to the BBC.
West Midlands Police said there was no suggestion Mr Khan - a former business partner of Mr Townshend - had committed a criminal offence.
"No further action was taken. He was helping with inquiries," the force said.
Mr Townshend was able to secure the mortgage because he was given power of attorney over the homeowner, aged in her 70s, the BBC understands.
A source said he had applied for equity release on the property, which Land Registry documents show was priced at £325,000.
Solicitors' files about the sale and purchase of the property cannot be found, those papers say.
The homeowner, who cannot be named for legal reasons, "absolutely denies knowing or approving of any sale or gift of her property", according to the Land Registry documents.
An application has been made to the Land Registry for the title of the property that came into Mr Townshend's hands to be transferred back into the woman's name.
A statutory declaration attached to that application alleged Mr Townshend "induced [the homeowner] to sign several sheets of blank paper which were then apparently used (amongst other things) to provide evidence... of an alleged gift and to transfer the property".
The declaration is from the "litigation friend" - the person who looks after the affairs of Mr Townshend's alleged vulnerable victim.
It said a "purported witness to the transfer document has been interviewed by the police under caution and has categorically denied any knowledge of the sale or of any gift by [the alleged victim] or of any conveyancing matters relating to [the alleged victim].
"[The alleged victim] has however confirmed that it was Mr Townshend's habit to have her sign papers and cheques in blank for convenience."
The Solicitors' Regulation Authority (SRA) began to investigate Mr Townshend in May 2015 but stopped when he died.
However, a spokesman said: "This investigation uncovered information that has led to further work and it is this that is ongoing."
At an inquest in April, a coroner ruled Mr Townshend died of natural causes.
He became a councillor in 1999, served as a school governor and chaired University Hospitals Coventry & Warwickshire NHS Trust for five years.
Police did not interview Mr Townshend before he died, a BBC investigation revealed in June.
His daughter Kirstie Logan-Townshend previously rejected the allegation and said police "made a mistake" by not interviewing him sooner, as "he would have co-operated fully".
She said it was easy to "fling mud" after someone had died but she saw this allegation as a case of "he said, she said" and said reports since her father's death were a "witch-hunt".
Mr Townshend is set to become the first recipient of a posthumous degree from the University of Warwick later this month.