Protests over closure plans for Coventry libraries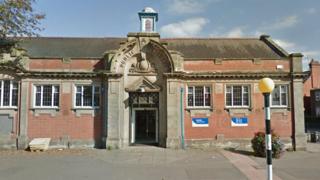 Campaigners are protesting against plans by Coventry City Council to close five of its libraries unless volunteers can be found to run them.
Libraries in Caludon Castle, Cheylesmore, Coundon, Earlsdon and Finham are under threat because of the need to save nearly £4m.
The council says "savage" central government cuts to local authority budgets have forced its hand.
However, some library users have criticised the plans.
The council could also turn some children's centres, nurseries and other youth facilities into "family hubs" under the cost-saving plans.
A consultation on proposals is set to take place from September, with a final decision due next year.
More on this and other stories from Coventry and Warwickshire
Sarah Smith, from Save Coventry's Libraries Group, taught herself to read at the city's libraries, and said they serve a far wider purpose for many vulnerable families.
"Libraries are no longer just for people to borrow books. They are people to do homework, do job searches, they are a place to go for elderly people," she said.
"They cannot afford gas and electric and they are using them as day centres, which the council closed years ago.
"How can a mother-of-four who barely has enough money for nappies, teach her children to read if her local library is closed?"
Kevin Maton, cabinet member for education and skills, said the council wanted to keep the buildings open, but "had no choice" but to look for volunteers to run some services.
"These proposals will deliver this and ensure that the areas that need them most get the best possible services we can still provide," he said.