Coventry council to refund £50,000 to motorists in fines blunder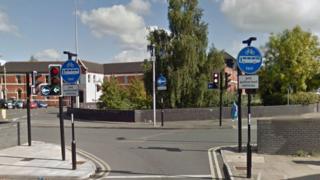 Up to £50,000 could be refunded to motorists who were wrongly fined.
A typing error in a Department for Transport (DfT) authorisation letter meant signs near Coventry's railway station were not legally enforceable.
The blunder was discovered by Richard Henighan, whose parents were fined for driving through Park Road.
The city council said up to 1,780 drivers fined on the road between 10 December 2015 and 21 April 2016 could claim a refund.
More on this and other Coventry stories
The DFT approved the sign at the bus gate on 10 December 2015. A bus gate is a junction where only buses can pass.
'Seemed strange'
Mr Henighan challenged his parents' fine when they were both sent a penalty notice within the same week.
"They have never been fined before so it seemed strange and I looked into the matter," he said
He noticed some signs were hidden by foliage and some had arrows pointing in different directions, making it confusing for motorists.
By chance he discovered the signage was not legally enforceable because of a mistake in the DfT's letter to the council.
Councillor Jayne Innes, Cabinet Member for City Services, said "There was a typo in the letter so they [DfT] refer to the sign by the wrong name.
"Therefore, for a period of time, without our knowledge, the bus gate wasn't operational as it should've been."
The initial penalty charge to motorists was £60, which was halved if it was paid within 14 days.
In a statement the council said: "The amount of the refund will obviously depend on how much they paid."
A DfT spokesperson said: "Due to an administrative error in the approval paperwork, bus gate signs in Park Road, Coventry, were not authorised for a period of time, but they have been compliant since April.
"We have been in contact with Coventry City Council since this issue came to light and we will continue to discuss this with them."