Nuneaton walk-in centre relocated to hospital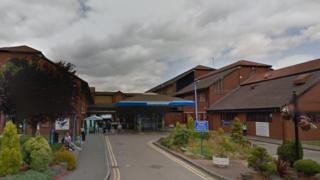 An urgent care walk-in centre will be relocated from a health centre to a town's main hospital.
The service in Nuneaton will be based at George Eliot Hospital from 1 June.
Currently at Camp Hill Health Centre, the move means it can work more closely with A&E, NHS Warwickshire North Clinical Commissioning Group said.
Patients will get the right service, it said, "streaming those with emergency needs to A&E and those with urgent needs to the urgent care team."
Dr Deryth Stevens, chair of commissioning group, said: "We recognise that relocating the walk-in service to George Eliot Hospital will mean some people will have to travel further.
"The consultation showed us that people were prepared to travel if this meant they got the care they needed first time."
The hospital's medical director Gordon Wood added: "Having one easily recognisable point of access will reduce confusion on which service to choose."