Coventry City's Chris Stokes probed over homophobic tweet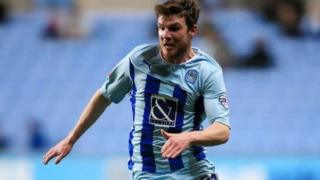 A footballer who posted a homophobic remark on Twitter is being investigated by his club.
Coventry City defender Chris Stokes used the term "faggots" when commenting on Monday's Premier League match between Chelsea and Tottenham.
The 25-year old left-back deleted the post and apologised, insisting he had not known its derogatory meaning.
A club spokesman said the matter was "completely unacceptable" and will be subject to an internal investigation.
Mr Stokes said: "I'd like to apologise for any offence I've caused.
"It was a brainless moment from me and I'm really disappointed in myself for using that term. I'm not homophobic at all.
"However, I know it is not acceptable by any means and I'm really sorry to any of our supporters or anyone in the wider public who have been offended by the remark."
The investigation will look at Mr Stokes' behaviour on social media and his use of the homophobic term, the club spokesman said.
"We will work with organisations such as Kick it Out and Football vs Homophobia to help educate Chris and the squad on why this term is unacceptable to make sure this doesn't happen again in the future," he said.