Woman gives birth on M42 hard shoulder in Warwickshire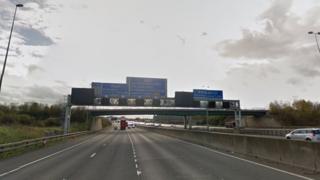 A woman has given birth on the hard shoulder of the M42 in Warwickshire.
The mum-to-be unexpectedly went into labour three weeks early while stuck between junctions 9 and 8 on Saturday.
Her husband pulled over and called 999 but the baby was born before police arrived.
PC James Barry found her sitting in the back of the Vauxhall Zafira holding the new arrival and helped the couple and their two other sons meet an ambulance crew nearby.
The Central Motorway Police Group officer said the family were caught in traffic after a diesel spillage on the motorway.
"By the time we arrived, mum had done all the hard work and we were there to make sure everyone was ok," he said.
"The husband did the right thing and pulled over onto the hard shoulder and called us for help.
"He told us that it had all happened so fast, that within 20 minutes of his wife going into labour she had given birth."
The family had been in touch to thank the officer for his help, he added.