Stolen dog found in Coventry back home after nearly two years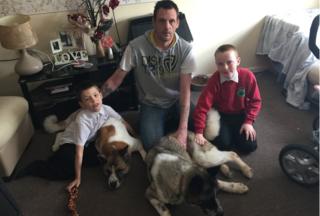 A dog owner has been reunited with his pet nearly two years after it was stolen.
Diachi the Akita was taken from a garden in Rotherham on 16 September 2014, said owner Robert Marsden.
She was found in Willenhall in Coventry on 15 April 2016 and the pair were reunited on 25 April, said Coventry City Council.
Mr Marsden said his son Christopher, aged 9, cried when he heard Diachi was coming home.
Father-of-four Mr Marsden was "past hoping" Diachi would be found and had moved since the dog was stolen from the garden of his former Eastwood home.
Crying
He had tried contacting the police, put up missing dog posters and put out appeals on social media but without success.
It also meant his other dog, Nikki, an eight-year-old Akita, was without her playmate.
A letter to Mr Marsden's new home in Masbrough, also in Rotherham, confirmed "his baby" - now turned three years old - had been impounded in kennels by Coventry council.
Mr Marsden said: "The feeling was overwhelming. Christopher was crying as he couldn't believe it."
The authority said it helped she was micro-chipped as that helped trace Mr Marsden.
Phil Hibberd, the council's manager for pest control and animal welfare, said it was great to see the family's reaction.
He said: "We take in over 700 strays from the streets of Coventry every year and unfortunately not all of the dogs are reunited with their owners.
"Daichi looks fairly healthy and we are all delighted about the outcome."