Answers demanded in Coventry 'cocaine' baby death case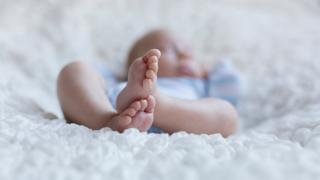 Authors of a report into the death of a baby who died with cocaine in his blood will ask police how a file on alleged neglect failed to reach prosecutors, the BBC understands.
According to a Serious Case Review, the five-month-old suffocated after sharing a bed with his mother and uncle at his squalid Coventry home in 2014.
But as it went before the city council on Thursday, procedural errors in an earlier criminal investigation emerged.
Answers are now being sought.
More on Child E and news from Coventry & Warwickshire
In early April's review of the death of the infant - known only as Baby E - Coventry Safeguarding Children Board found there was nothing to indicate the boy was in danger before he died. There were no prosecutions for neglect.
The board has asked West Midlands Police for clarification after the force said prosecutors did not receive a "file for neglect" due to a "technical error".
Ch Supt Claire Bell, of the public protection unit, said officers would now consider whether to re-submit any evidence for prosecutors' consideration.
Neither police nor the CPS has confirmed how the files were sent.
Prosecutors said police took a decision in November 2014 not to refer the case to CPS for a charging decision "in respect of any offences in connection with the death of Child E".
A Safeguarding Children Board spokesperson said: "The report as published reflects the information made available to the author at the time of its completion.
"It is sometimes the case that additional information emerges following the publication of a report and in such cases an addendum will then be issued."