Warwickshire Police misspells Shipston-on-Stour and Wellesbourne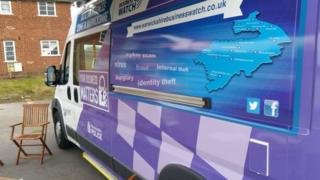 A police force has tweeted photographs of its new van design - complete with spelling mistakes.
North Warwickshire Police uploaded a picture of its new "mobile station", emblazoned with a map of the force area.
But two towns in the patch - Shipston-on-Stour and Wellesbourne - were spelled incorrectly.
The force said it was working to resolve the mistake "as quickly and cost effectively as possible."
More on this story and updates from Coventry & Warwickshire
The misspellings - Shipstone-on-Stour and Wellsbourne - were picked up by a local team from one of the towns.
Shipston Safer Neighbourhood Team pointed out the errors and tweeted: "I think you need to ask for a refund."
Policing North Warwickshire replied: "For Sale 2016 mobile police station, 187 miles, slight artwork issue...."