Flood warnings and alerts remain across Warwickshire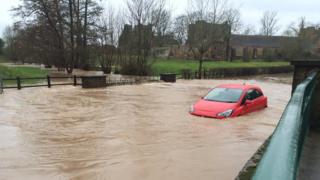 Rivers remain at risk of flooding with warnings and alerts in place across several parts of Warwickshire.
The Environment Agency said levels on the Avon, Dene, Stour, Soar and Leam would peak late on Thursday.
Fourteen schools were forced to close on Wednesday after torrential rain caused roads to flood.
Rail services were cancelled between Rugby and Milton Keynes but Virgin Trains said services on Thursday would not be affected.
More on this story and others from Coventry and Warwickshire
The delays to the rail service lasted for most of Wednesday. Network Rail said the problem had been near Rugby where the River Avon recorded its highest ever level on Wednesday night - peaking at 3.6m (11.8ft).
The previous high was 3.53m (11.6ft) nearly 18 years ago.
The rising river levels caused significant local flooding, Network Rail said, and flooded two sections of the railway - including two tunnels south of Rugby.
The flood warnings include the River Avon at Warwick. Updates can be viewed here.
The Bretford Bridge in Rugby remained closed on Thursday.