Coventry park protection for child sex victims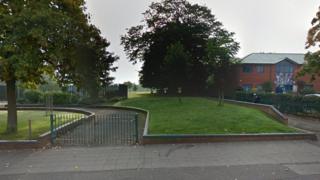 Gangs will be banned at a Coventry park over concerns of child sex grooming and the use of drugs and alcohol.
Residents are intimidated by "menacing" groups of men at Edgwick Park in Foleshill, said the police and council.
West Midlands Police said two girls claim they were raped after meeting men in the park in June.
The council is proposing a protection order after identifying the park as a hotspot for the "procurement of young people for sex".
More on this and other Coventry and Warwickshire stories
The police said young girls are being given alcohol and drugs in the park by older men, who are then engaging or attempting to engage in sexual activity with them.
'Exploiting vulnerabilities'
The three-year public space protection order (PSPO) will ban groups of two or more if their behaviour "has or is likely to have a detrimental effect" on residents' lives.
Ed Ruane, cabinet member for children and young people at Coventry City Council, said they were working with residents and police to introduce the order.
West Midlands Police said patrols had increased since June.
"The only individuals who would not benefit from the introduction of a PSPO would be those people motivated towards exploiting the vulnerabilities of young people," added Sgt Asa Morris.
Jayne McHale, headteacher at Edgewick Community Primary School, said they have to close windows in the summer because of the smell of cannabis.
"The men that congregate at the front of the park create a threatening and menacing atmosphere," she said.