'Young Will' sculpture unveiled in Stratford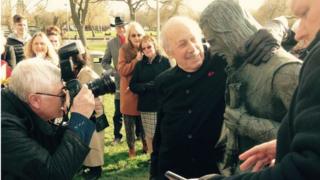 A sculpture of a young William Shakespeare has been unveiled in Stratford-upon-Avon.
The life-size statue of the Bard with one foot on a bench has been placed in Bancroft Gardens to mark the 400th anniversary of the playwright's death.
Sculptor Lawrence Holofcener flew from his Florida home for the unveiling on his own 90th birthday.
The former actor, who gave the sculpture to the town, described Shakespeare as "my hero".
"He was just the best playwright in the world," he said.
The sculpture depicts the Bard, who was born in Stratford in 1564, with his arm outstretched inviting people to pose with him.
Updates on stories from Coventry and Warwickshire
Lawrence 'Larry" Holofcener is also the sculptor behind "Allies" in Bond Street, London, which depicts Winston Churchill and Franklin D Roosevelt.
He said the London piece, which has become a popular tourist attraction, became interactive "with immediate effect", when people surrounded the bench to sit between the life-sized sculptures.
The district council hopes many visitors will want to be pictured with the new sculpture in front of the Royal Shakespeare Company theatre.
Holofcener has appeared in Broadway productions and several films but said he had not appeared in any Shakespeare plays.
He described sculpting as "pure joy" and said one of his highlights had been meeting Laurence Olivier and creating the "Faces of Olivier" sculpture.
He said Shakespeare was normally depicted as ageing and "dour" but he had imagined the playwright differently.
"I didn't want that man, I wanted to portray him as full of life, and in his 20s or 30s maybe," he said.
The 400th anniversary of Shakespeare's death will be marked in the town and around the world.