British Motor Museum among "best in world" after £5m revamp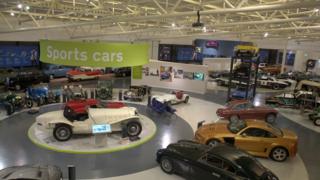 A car museum has reopened following a £5m revamp, making it among the "best in the world".
The former Heritage Motor Centre has been renamed the British Motor Museum and is "more interactive", a spokeswoman said.
It features a new car centre, life-sized match box cars and Land Rovers raised on plinths.
Its Collections Centre, featuring 250 cars, opened in Gaydon, Warwickshire, after Heritage Lottery Fund support.
A total of £4m was spent on the Collections Centre, along with £1.1m from the British Motor Industry Heritage Trust to transform the museum, which includes new zones such as royal cars, motorsport and vehicles from film and television.
The centre's cars are from the reserve collections of the Trust and Jaguar Heritage Trust.
Gavin Williamson, Conservative MP for South Staffordshire, said as a classic car enthusiast, he was "delighted" to be among 400 of the finest of them.
"The British Motor Museum is instrumental in enabling visitors to learn more about the past, present and future of the British motor industry, its technology and its people," he said.
"With the exciting improvements and enhancements now made, the museum can now be counted as being amongst the best motor museums in the world".
The museum, which closed for the revamp at the end of November, is holding a Build a British Car Week during next week's half-term, where children can attend workshops.