Raj Mattu case: Sacked doctor gets £1.22m in damages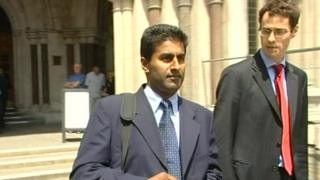 A heart surgeon who was dismissed from a hospital after exposing concerns about patient safety has been awarded £1.22m in damages.
Dr Raj Mattu was sacked by University Hospital of Coventry and Warwickshire NHS Trust in 2010.
Nine years previously he had exposed the cases of two patients who had died in crowded bays at Walsgrave Hospital in Coventry.
A tribunal in 2014 ruled he had been unfairly dismissed.
In the tribunal the employment judge, Pauline Hughes, said Dr Mattu had done nothing to "cause or contribute" to his dismissal and he had been "unfavourably" treated by the trust.
More on this story and others in Coventry and Warwickshire
In a statement Stephen Moore, acting for Dr Mattu, who has since called for more protection for whistle-blowers in the NHS, welcomed the damages.
"The significant concerns which my client raised were proved to be well-founded and the award allows him to begin rebuilding a shattered life," he said.
"It is a reflection of all that he has suffered and it is a terrible waste that such a skilled individual will not be able to return to a job he loved and did so much for people."
A spokesman for the trust said the payment, which was lower than the original amount claimed by Dr Mattu, had "finally resolved the matter".
"We accept that it has been difficult for all involved and are relieved that this case has now been brought to an end."