Stratford-upon-Avon District Council votes to join combined authority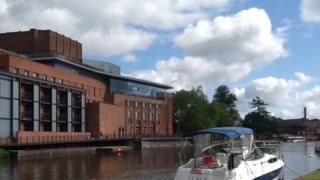 Stratford-upon-Avon Council will join West Midlands Combined Authority after reversing a previous decision.
Councillors voted to become a non-constituent member of the authority at a full council meeting on Monday.
The council, which voted against the plan in October, cannot become a full member because it is a district council.
District council leader Chris Saint said it meant "maximising" benefits in areas such as housing and investment.
Updates on this story and more from Warwickshire
Mr Saint said each member would "retain its independence" and continue to provide services, including planning and refuse collection.
"It just means that there will be better collaboration between councils on strategic issues such as investment, skills, housing and economic development," he said.
A mayor will be elected for the West Midlands in 2017 after a "historic" devolution settlement was agreed.
The West Midlands will be one of six devolved regions in England and it will have an elected mayor.
Birmingham, Coventry, Dudley, Sandwell, Solihull, Walsall and Wolverhampton are all to be full members.
Opponents have questioned the size of the new region, but supporters say it could bring in new jobs and other benefits.