Coventry Arena and Bermuda Park railway stations open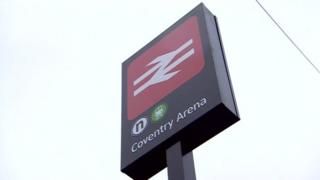 Two new railway stations have opened amid a row over a lack of carriages.
Coventry Arena and Bermuda Park in Nuneaton are part of a £13.6m investment to improve services between the city and town, London Midland said.
There have been complaints that the Arena station will not be open for rugby or football fans after a game or on major event days.
London Midland has said it is for safety reasons as the hourly service only has 75 seats.
Wasps and Coventry City FC have been asked to sponsor charter trains and have said they will look into it.
A rail users group said trains should be longer.
Read more news from Coventry and Warwickshire.
Mark Whitelegg, from Nuneaton, Bedworth and Hinckley Rail Users Group, said it was the first step in making the line between Nuneaton and Coventry "much more popular".
But he said: "I think the missed opportunity is over the last 10 years while this project's actually being developed no-one has actually thought to get a longer train ready for today and I just think that's ridiculous."
Francis Thomas, from London Midland, said there was a "national shortage of trains in the UK, particularly diesel trains".
Later work will include a new platform at Coventry to increase the frequency of services and a new station at Kenilworth, London Midland said.
Bermuda Park will have 30 free car parking spaces and Coventry Arena 80 spaces.
London Midland said the Coventry-Nuneaton upgrade was being delivered by the city council, Centro and Warwickshire County Council and was funded by the three partners, the Department for Transport and the European Regional Development Fund.