Coventry warden to stop motorists driving over kerbs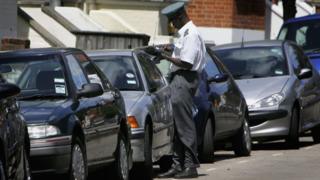 Residents could pay more than £1,000 to install a dropped kerb so they can park outside their own homes.
Coventry City Council is hiring a vehicle crossing officer in a bid to stop vehicles driving over raised kerbs.
Persistent offenders could find the entrance to their homes blocked, the report said.
The council said repairing damaged pavements costs them "many thousands of pounds each year".
Updates on this story and more from Coventry and Warwickshire
Under new rules agreed by the council, applying for a dropped kerb to be installed is to be doubled to £200, half of which can be refunded if residents choose the council to carry out the work.
In a report the council said it expects to receive more than £30,000 a year from the applications, which will pay for the new officer's wages.
Residents with smaller front gardens will also be allowed to apply for dropped kerbs outside their homes, with the minimum length reduced from 4.8m (15.75ft) to 4.5m (14.76ft).
The average cost of installing a dropped kerb in the Finham area of the city was £1,234.50 in 2014, while in Radford and Holbrooks work carried out in the year up to June 2014 cost from £1,029 to £4,010.
A council spokesman said parking on raised kerbs creates "an unfair situation" and claimed the new policy would "reduce damage and keep more pavements safe".
"Residents who absolutely persist with damaging the footways, costing the council in pavement repairs, will be contacted and asked not to drive their vehicles over the footway," they said.