Jimmy Hill celebration to be held in Coventry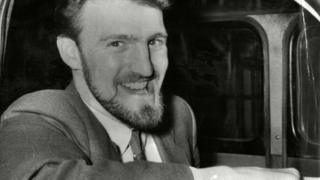 A celebration of the life of former Coventry manager and club chairman Jimmy Hill will take place in the city.
The event celebrating Hill, who died aged 87, will be held in Coventry Cathedral at 17:30 GMT on 12 February.
It will celebrate his life and contribution across football and broadcasting, Coventry City FC said.
He joined the club as manager in 1961, leaving six years later shortly after they had been promoted to the First Division for the first time.
Updates on this story and more from Coventry
The former Match of the Day presenter, who died on 19 December, led the campaign for the scrapping of maximum wages for professional footballers, as chairman of the Professional Footballers' Association.
Hill, who also played 297 games for Fulham, was diagnosed with Alzheimer's in 2008.
Coventry City said full details of the celebration, which will include personal memories of Hill, and how to obtain tickets would be confirmed in the coming weeks.