Khaleel Hussain murder: Events before death 'not foreseeable'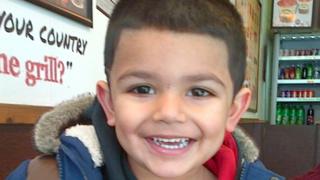 A toddler's murder at the hands of his mother's boyfriend could not have been foreseen, a review has concluded.
Khaleel Hussain, two, from Coventry, died in 2013 from injuries inflicted by Keith Brown.
The 23-year-old was jailed for life while the boy's mother, Samina Kauser, 25, of Richmond Street, received three years for allowing the toddler's death.
While chances to intervene in Khaleel's care were missed, the murder could not have been prevented, the review said.
Updates on this story and more from Coventry
The serious case review said agencies could not have prevented Kauser from choosing to be in a relationship with someone she knew had a history of violence.
Coventry Safeguarding Children Board - made up of health, council and voluntary organisations - commissioned the review. Khaleel was not previously known to social services.
Following the case, the board said it hoped to develop more effective ways of reaching parents who are reluctant to seek support and advice.
The report said the case highlighted the need for professionals to go beyond prescribed guidelines and use "experience, intuition and professional curiosity" to intervene and reduce the risk to vulnerable children.
Health professionals saw Kauser at least 14 times over two-and-a-half years but "at no point were any concerns raised around the relationship [between mother and child], which appeared normal," the report said.
It stated women's refuge staff commented she "had low-level issues with her mothering skills" and would leave Khaleel in his pushchair for lengthy periods.
Police were called to her address in Coventry after a report of a woman swearing at a child, the review said.
It stated police found the boy had smeared faeces on a wall and Kauser said she had shouted and sworn at him, but he was physically unharmed and no further action was taken.
In 2011, Kauser was arrested and cautioned for shoplifting. On another occasion, she was cautioned for possessing cannabis.