Roadworks at Jaguar Land Rover running 'on schedule'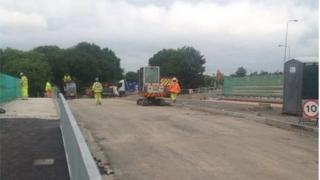 Roadworks leading off the Coventry site of car giant Jaguar Land Rover (JLR) are due to be completed by the end of July, the project managers have said.
A new slip road on the A444, at Whitley, reopened at 04:00 BST and the northbound exit has closed to enable work to continue.
Project manager Martin Potter said the £6.5m project was "challenging" but was due to be completed on schedule.
The council said the work was making "great progress."
Mr Potter said: "The existing exit from JLR and the business park has now closed to traffic.
"Closing down the old carriageway enables us to build the new construction. In the next two to three weeks we will be completing those works.
"It is a major step forward for the site team.
"We are about 90% complete and we are on track at the moment."
He added the project, which was funded by a Regional Growth Fund grant, had been "challenging".
"It's like one of those puzzles where you have to build it in pieces and hopefully it joins together at the end."
Rachel Lancaster, from Coventry City Council, apologised for the disruption to drivers.
"The project is making great progress," she said.
"By early August we will have overseen another huge change on a key route through the city - one that I'm sure will be beneficial for everyone who uses this route regularly."